The Detailed Capsule Wardrobe Checklist You Need (Printable)
Whether you've seen a pretty capsule wardrobe checklist on Pinterest or you stumbled upon the pared-down wardrobe another way, you've decided to take the plunge and build one of your own.
Welcome to the capsule club, darling. You're in the right place.
I've built multiple capsule wardrobes from colorful closets to stylish athleisure ones and picked up some lessons along the way. So it's only natural that I share my capsule wardrobe checklist with you. What you should know: 
To make your life easier, the essentials below adhere to capsule wardrobe principles like versatility and color palette cohesion.
I've also crafted a printable capsule checklist to help you keep track of items your closet may be missing.
Whether you are starting from scratch or simply supplementing your current closet, the little gems on this checklist will help.
Let's get started! 
Note: This post may contain affiliate links meaning I earn a small commission when you shop the links, at no cost to you.
Table of Contents
What to Look For When Building a Capsule Wardrobe 
Capsule Wardrobe Printable Checklist 
30+ Capsule Wardrobe Essentials 
Table of the Top Capsule Items for Your Closet
Capsule Checklist Outfit Ideas
Seasonal Capsule Wardrobe Staples 
How I Select Capsule Wardrobe Essentials
Capsule Checklist FAQs
What to Look for When Building a Capsule Wardrobe
I know, I know. You want to hop into the list of capsule wardrobe essentials. We will do it so soon. But before you breeze past this section, I want to save you some time and frustration. Do this to make informed choices and create a versatile and practical wardrobe that suits your style and unique needs.
Dress for your daily adventures.
Whether you're a professional in the office or a super-active student, your capsule wardrobe should support your lifestyle. As a social butterfly who attends events, I include many dressy pieces in my wardrobe. But for my travel capsule wardrobe, I edit according to my itinerary. 
Set colors and stick with them.
Let's talk about colors, shall we? A well-planned color palette sets the stage for endless style possibilities. For simplicity's sake, I choose neutral colors that are easy to mix and match. Then, I pick fun accents that I weave throughout the entire wardrobe. 
Choose versatile pieces.
Imagine the magic of creating countless outfits from just a few key pieces. That's the power of versatility, my stylish friend! So timeless cuts and classic silhouettes are a great way to go. You'll notice lots of classics on my capsule wardrobe checklist from a white button-down shirt to a little black dress. 
Buy quality basics.
Don't neglect wardrobe basics aka the building blocks of a fabulous capsule wardrobe. By curating thoughtful basics like neutral trousers, versatile blouses, and flattering jeans, you make it easier to style your statement pieces.  
Capsule Wardrobe Printable Checklist
I created this printable capsule checklist to give you a simplified list of wardrobe essentials. The boxes allow you to mark the number of each item you need. There's also an item tracker at the bottom which offers a place to mark down your most frequently worn pieces.
30+
Capsule Wardrobe Essentials for Easy Outfit Creation 
For a quick refresh, a capsule wardrobe is a thoughtfully selected set of clothes that pair well with each other for easy mixing and matching. Capsules can range from small 15-piece closets to 40+ piece ones but the principle remains the same- it's a streamlined way to get dressed and look put together easily. 
Below, you'll find a list of the most versatile and essential pieces to include in your wardrobe. I featured products from some of my favorite capsule wardrobe brands in case you need to fill in wardrobe gaps.
Table of Top Capsule Wardrobe Items
Category
Item
Recommended Quantity 

Tops

White button-up shirt

1

Boat neck top

1-2

Elegant blouse

2

Silk camisole

2-3

Neutral T-shirt

3

Square-neck bodysuit

1-2

Neutral tank top

4-6

Pants

Tailored trousers

1-2

Athleisure pants

1

Flattering  jeans

2

Linen shorts

1-2

Skirts &

Dresses

Little black dress

1

Midi dress

1-2

Patterned midi skirt

1

A-line skirt

1

Sweaters

Knit sweater

2

Sweatshirt

1-2

Turtleneck

2-3

Light cardigan

1-2

Outerwear

Trench coat

1

Wool coat

1

Structured blazer

1

Shoes

Ankle boots

2

Polished heels

1-2

Slip-on loafers

1

Strappy sandals

1
 Tops 
White button-up shirt
This timeless staple exudes quiet luxury. I reach for my button-up to elevate any outfit effortlessly. Pair it with jeans for a sophisticated yet relaxed look or combine with tailored trousers for office days. 
Boat Neck Top
This is a versatile basic that serves as the foundation for countless outfits. When I tell you this neckline is so chic, you must believe me. It looks so put together with minimal effort. 
Balloon Sleeve Blouse
 A blouse adds a touch of sophistication to any outfit. Pair it with trousers for work or tuck it into a skirt for a more feminine look. I opt for a black or neutral-colored one so that I can mix and match it easily.
Silk Camisole
A silk or satin top adds a touch of luxury to your wardrobe. On warmer days, wear it on its own with loose pants. Of course, you can also layer it under blazers or cardigans for a chic look.
Neutral T-Shirt
Embrace understated elegance with this capsule wardrobe essential. Choose one with impeccable fit and quality fabric. That way, it serves as the perfect foundation for creating effortless outfits, whether you're going for a casual or more refined aesthetic.
Square-Neck Bodysuit
 If you know me, you know I love a good bodysuit. The clean lines and sophisticated square neckline create a flattering silhouette that accentuates the collarbones and shoulders. 
Neutral tank top
 When it comes to layering, a tank top is a capsule wardrobe essential you'll reach for often. I love this closet staple since it can be dressed up or down with ease.
Pants 
Tailored Trousers
My capsule wardrobe checklist is not complete without my chic and dependable trousers. To me, they are equally chic with sneakers for running errands or heels for a work event. 
Athleisure Pants
If you're looking for a more modest alternative to leggings, opt for a polished pair of wide-leg pants. I reach for this casual yet polished option when I want to look put together but still feel comfortable. 
Wide-Leg Jeans
A pair of well-fitting jeans is a capsule wardrobe essential that is ideal for mixing and matching. All of my tops go with these jeans and we love a staple that plays well with others.
Linen Shorts
Infuse your wardrobe with a touch of laid-back luxury through neutral-colored shorts. While I'm more of a skirt lover, I've noticed that shorts are a refreshing and cool option for warmer days. 
Skirts & Dresses
Little Black Dress
A well-fitted LBD is a timeless investment piece that everyone needs. I recommend reaching for one that's semi-formal but can still be dressed down with ease. 
Midi dress
What's that? You want a piece that takes you from daytime elegance to evening sophistication? A midi or maxi dress is just the thing. My pick is this showstopper featuring off-the-shoulder detailing. 
Printed Dress
I love incorporating feminine floral prints into my closet. Since a dress is a  stand-alone piece, it is the capsule wardrobe checklist item that perfectly accommodates prints.
Patterned Midi Skirt
You'll notice that the shirts on my capsule wardrobe checklist are neutral and print-free. This leaves room for some fun patterns in skirts like an eyelet asymmetrical midi skirt.  
A-line skirt
Fitted at the waist and flared as it moves out, an A-line skirt features a timeless silhouette that I adore. Pair it with a tucked-in blouse, a cozy sweater, or even a structured blazer.
Sweaters 
Knit Sweater
A knit sweater is a classic for a reason. The textured fabric adds visual interest and warmth to your outfit. 
Sweatshirt
Contrary to popular belief, a sweatshirt can be chic. Just look for a quality-made one with a flattering fit. Bonus points if it has some pretty detailing on it like lace ruffles.
Turtleneck
For fall and winter closets, reach for a few turtleneck tops or sweaters. I always have a black and a tan one on hand to stay cozy and cute. 
Light Cardigan
A cardigan in a lightweight fabric can be easily draped over dresses or paired with tops and bottoms for a cozy but still refined look. 
Outerwear 
Trench Coat
With so many variations, rest assured there's a trench coat for you. To me, this staple exudes quiet luxury. Plus, it works in multiple seasons including transitional periods (summer to fall, we're looking at you).
Wool Coat
This is a must on a winter capsule wardrobe checklist. I reach for my coat time and time again during colder months. Whether wrapped over a sweater dress, trousers, or a long winter skirt, it always looks great. 
Structured Blazer
As a wardrobe hero in the office and beyond, a blazer is a capsule essential. I wanted to shake things up so I added a blazer cape to the capsule wardrobe checklist. It gets so many compliments. 
 Shoes 
Ankle Boots
Whether they are paired with jeans, trousers, or dresses, ankle boots are a pretty addition to fall and winter outfits.
Polished Heels
Be sure to have at least one pair of dressy shoes in your capsule. Choose a height that you are comfortable wearing again and again.
Classy Loafers
File these under shoes that blend elegance and comfort. I love loafers because they help me look effortlessly elegant. Wear them to the office, to brunch, and more. 
Strappy Sandals
When spring and summer call, you'll need a comfortable and chic pair of flats to get you around. I love a pop of color in mine so I included a few colorful recs below. 
White Sneakers
Yes, these babies are probably on every capsule wardrobe checklist. But it's for good reason. They are oh-so versatile. 
Accessories 
Sun Hat
Sun protection and style are not mutually exclusive. Add a floppy sun hat to your rotation in warmer months. If you have thick hair like me, you can even opt for one like this sun visor that I wear on repeat during the summer.

Chic Sunglasses
Not only do glasses shield your eyes from the sun, but they also lend an air of mystery and glamor to any outfit. Once you find the perfect frame for your face shape, you'll be wearing them all the time. 
Structured Bag
A well-made bag is worth its weight in gold. I recommend one with clean lines and a classic shape so that you can pair it with outfits easily. 
Printed Scarf
I wear this in my hair, wrap it on my bag, or drape it around my neck. A printed scarf is a versatile accessory that can instantly elevate your style. The key is to get a few in different tones so that you can swap them out based on your outfit colors. 
Outfit Ideas with My Capsule Essentials
The closet staples are out to play. Here's a peak at how I style staples from the checklist including my beloved boat neck top, tailored trousers, and a structured blazer.
Seasonal Capsule Wardrobe Staples
Like I said, I've built a few (okay, more than a few) capsule wardrobes. If you want a checklist based on the season, explore these seasonal closets I created:
Summer Capsule Wardrobe Checklist 
You can browse the full colorful capsule for an in-depth guide and summer outfit ideas. But here's a quick list of my top summer wardrobe essentials: 
Linen shirt 

White t-shirt 

Dainty blouse 

Simple sundress 

Racerback tank top

Linen trousers

Wide-leg jumpsuit 

Flowy maxi dress

Midi Skirt 

Lightweight cardigan 

White jeans 

Denim shorts

Wide-brim hat 

Sandals (chunky or minimalist)

White sneakers
Winter Capsule Wardrobe Checklist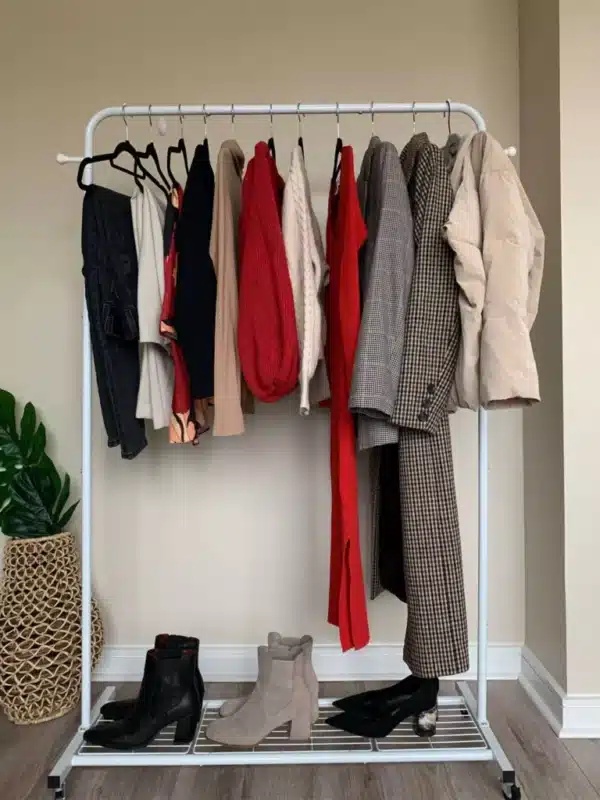 When temperatures drop, a winter capsule like this provides cozy and timeless essentials. Here are some must-haves when building a winter wardrobe: 
Thermal Underwear

Turtleneck

Button-Down Top

Neutral Bodysuit

Knit Sweater

Cozy Cardigan 

Dark-Wash Jeans

Fleece-Lined Leggings

Sweater Dress

Wool Coat

Down Vest

Lined Gloves

Wool Scarf

Large Scarf

Ankle Boots
How I Select My Capsule Wardrobe Essentials 
Let's be real. Your capsule wardrobe checklist will look a little different from mine. Lifestyle, personal preferences, and budget all play a role when building your perfect capsule ( I created this guide on how many pieces should be in your capsule closet to help). Consider the following to build a closet full of pieces you'll actually wear:
Consider Lifestyle
The pieces I need are based on my social calendar and life. Professionally, I work from home. But socially, I attend a lot of events and dinners. So my capsule includes a good amount of dressy pieces. You should build your capsule wardrobe around your lifestyle and daily activities. To do so:
Analyze your daily routine. How do you spend most of your time? What outfits support the activities you do regularly?
Plan for special events. Think about any upcoming events or special occasions that require specific attire. What is your wardrobe missing?
Align clothing with climate. Look for fabrics and styles that make sense in the weather conditions you typically experience.
You need pieces that work well together. Before shopping, set a specific color palette with 4-6 colors. This can be based on what you already own and wear often. I have a full guide featuring lots of ways to select a wardrobe color palette. But here are some quick tips: 
Use what you already have. Take a look at the colors that dominate your existing wardrobe. Identify the shades that you naturally gravitate towards and feel most comfortable wearing. 
Set a core neutral. Want to make outfit creation easy? Choose a core neutral color that will serve as the backbone of your capsule wardrobe. Black, white, gray, and navy are all colors that make mixing and matching easy. 
Pick a few accent colors. One common misconception about capsule wardrobes is that they are boring. Yours does not have to be. choose a few accent colors that complement the core neutral you selected. These shades will add personality to your outfits. 
Sort Current Clothes
When building a capsule, I go through what I already have to form the base. The jeans I wear weekly? Yes. The white T-shirt that goes with everything? Definitely. Sorting your current clothes helps you find key pieces for your cohesive capsule. Here's how to do it:
Assess wear frequency. What pieces do you reach for time and time again? These deserve a spot in your capsule, as long as they are in good condition.
Get rid of unused clothing. Make room for the new and reduce decision fatigue by letting go of what you no longer wear. You can donate items or sell them on a resale site.
Identify gaps in your wardrobe. Look for categories that may need additional items to create a well-rounded capsule. Make note of these on your capsule wardrobe checklist. 
Once I've identified gaps, I can shop with confidence. This is because I know I'm purchasing essentials rather than just adding clutter. It's important to Invest in well-made garments that are durable. Here's what to keep in mind:
Look for sturdy stitching. Check the seams, hems, and overall construction of the garment. Quality stitching ensures that the piece will hold up well over time, not just for one season.
Shop quality fabrics. Natural fibers like cotton, linen, wool, and silk often offer better durability and longevity compared to synthetic materials. 
Pay attention to fit. Try items on. Then, examine the fit around the shoulders, waist, and hips, as well as the length and overall proportions. Remember, you can get a garment tailored to fit perfectly. But it's important to start with a good foundation.
Why should I build a capsule wardrobe?
If you have a lot of clothes but nothing to wear, a capsule is ideal. I eschewed a cluttered closet in favor of a capsule and experienced lots of benefits like:
A more well-developed sense of style

. I learned how I like my clothes to fit, what I feel good in, and what looks great on my 5 '3 frame. 

Quality wardrobe staples.

When you shop less frequently, you can prioritize quality over quantity. 

An organized closet.

With a limited number of thoughtfully chosen pieces, it's easier to arrange and maintain an orderly closet.

Less time warring with my closet. If you frequently try on lots of outfits and don't like any of them, I feel you. And I urge you to try a capsule wardrobe out. Thanks to the versatility of the pieces in my closet, creating chic outfits takes a lot less time.
How many outfits should be in a capsule wardrobe?
I like to aim for a capsule range from 15-35 pieces. Depending on how versatile the pieces you chose are, it's possible to create anywhere from 50 to 150 outfits with a capsule in the 30-piece range. The capsule wardrobes I've created usually fall in this range.
My tip- Aim for a range rather than a strict number of pieces and then edit it as you use the wardrobe. I find the 15-35 item range is a sweet spot that gives me the freedom to shake things up without having an overwhelming amount of clothes in my closet.