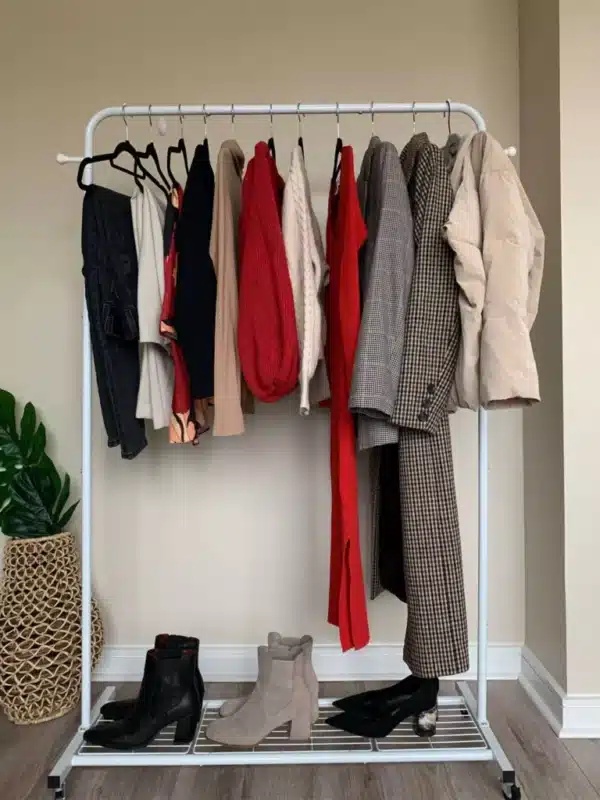 Your 2023 Winter Capsule Wardrobe: 15 Pieces, 54 Outfits
To look cute or to be warm? For the fashion-forward, this perennial problem pops up as temps drop each year. But worry no more. With a well-crafted winter capsule wardrobe, you can look polished while staying snug.
I built a minimalist winter capsule ( just 15 pieces- I'm feeling very sleek this season) and am showing you exactly how I style it below. It features a foundation of timeless basics and the necessary sprinkle of attention-grabbing garments.
Let's get dressed, darling.
Table of Contents
What is a Winter Capsule Wardrobe?
15 Minimalist Winter Capsule Closet Essentials
Minimalist Winter Capsule Outfits
How to Build a Capsule Wardrobe for Winter
Winter Capsule Wardrobe Checklist
How to Layer Your Winter Clothes
Note: This post may contain affiliate links meaning I earn a small commission when you shop the links, at no cost to you.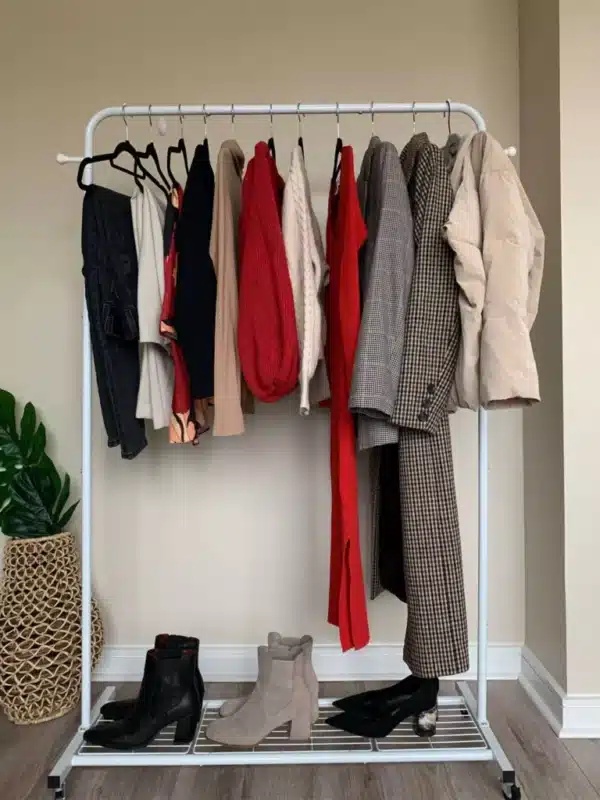 What is a Winter Capsule Wardrobe?
A winter capsule wardrobe is a thoughtfully curated collection of essential clothing items designed for colder months. Staples include coats, sweaters, jeans, boots, and scarves. With a few timeless and versatile pieces in your closet, you can create multiple chic looks and save time when getting dressed.
How Many Outfits Does This Capsule Make?
This winter capsule wardrobe features 15 pieces total – 12 clothing items and three pairs of shoes. Here's the breakdown:
Tops: 3 options
Sweaters: 2 options
Bottoms: 3 options
Dresses: 1 option
Outerwear: 3 options
Let's calculate the total unique outfits:
Multiply the options for each category together: 3 (tops) * 2 (sweaters) * 3 (bottoms) * 1 (dress) * 3 (outerwear) = 54 outfit combinations
So, with this minimalist winter capsule wardrobe, you can put together 54 unique outfits by choosing one item from each category (not even including shoes).
My Winter Capsule Wardrobe:
15-Pieces for 50+Outfits
Ready to brave the cold in style? Below, I'll walk you through my winter wardrobe essentials, show you how to build your own, and share chic winter outfit ideas. Shall we?
Tops
Boat Neck Top
When it's a tad too chilly for off-the-shoulder tops, a boat neck shirt is my go-to garment. Something about letting the collarbone peek levels up the allure of an outfit. 
Fitted Turtleneck
Much loved for its warmth and versatility, a turtleneck (or two) will remain in my winter rotation for the foreseeable future. If you lack this staple, add it to your winter capsule wardrobe checklist ASAP. 
White Button Down
Enter the sartorial Swiss army knife- a white Oxford shirt. Layer it under a sweater, top it with a printed scarf, or French tuck it into trousers for an effortless cold-weather outfit. 
Sweaters
Balloon Sleeve Sweater
Certain winter capsule wardrobe pieces serve double duty as warmth enhancers and compliment magnets. Trust a balloon sleeve sweater in a vibrant hue to do the trick. I rented this Vayu tie-back sweater and it was what my Christmas cropped dreams are made of.
Cream V-Neck Sweater
Neutral sweaters are having a major moment, thanks to the soaring interest in all things quiet luxury. I'm known to sport my cream knit on its own as a sweater or draped over a long-sleeved top. It's safe to say old East Coast fashion has seeped into my closet.
Bottoms
Tailored Trousers
Elegance and comfort intertwine in the form of tailored trousers. They're the epitome of effortless sophistication, transitioning seamlessly from work meetings to cozy coffee catch-ups. I live in my cream trousers come winter time. 
Black High-Waisted Jeans
While blue jeans feature prominently in my fall capsule, black jeans are undeniably easier to dress up. It's for this reason that I keep this straight-leg pair from Everlane in my winter capsule wardrobe. Ideal for those "jeans and a nice top" dinners and events.
Floral Maxi Skirt
Fowers are few and far between in winter months. That's why I love adding them to my outfits. Critics will doubt a maxi skirt's ability to weather winter temps. But with a pair of fleece-lined tights, I find this feminine staple just as wearable as trousers. 
Dresses
Red Sweater Dress
A figure-flattering frock that feels as amazing as it looks? The sweater dress is a winter essential that effortlessly turns heads while keeping you cozy. I love slipping this vibrant red number on for parties. Many thanks to the original creator of the sweater dress, whoever you are.
Outerwear
Plaid Trench Coat 
Slipping on a plaid overcoat imparts an automatic sophistication to any winter outfit. It's the fashion equivalent of cleaning your whole room or doing your taxes ahead of schedule- you immediately feel like you have your life together.
Pro Tip:  If you're petite like me, avoid a coat that hits right at your knees. This shortens you visually. Check out the full petite capsule wardrobe here. 
Open Front Blazer
The open-front blazer is your winter power move. Tailored to perfection, it's not just an outer layer; it's the exclamation point to your winter outfit.
Neutral Puffer Jacket
Even the most minimalist winter capsule wardrobe benefits from a functional piece like the neutral puffer. I've been loving the asymmetrical neckline options lately. Add one to your winter wardrobe for warmth on the coldest days. 
Shoes
Nude Heeled Boots
Step into winter with the subtle elegance of nude booties. I wear these a little too much as temperatures drop. What can I say? They're the foundation of a solid winter footwear collection—neutral and dependable.
Like a little black dress, black heels are sophisticated and timeless. These pointed darlings elevate my winter outfits, lengthen my legs, and powerfully click against the pavement in the most satisfying way.
Pointed Toe Black Booties
Black booties round out my 15-piece winter capsule wardrobe. I find them equally charming under a maxi skirt or a sleek pair of trousers. 
Winter Capsule Outfit Ideas
Temperatures are dropping. But your style doesn't have to take a hit. With these 15 core pieces, I can create over 50 winter outfits. Scroll on to see just some of the ways I styled my capsule for chic (and warm) winter looks.
Yes, you definitely can wear skirts in winter. Here, I layered tights underneath my maxi and stepped out in style.
Winter Outfits with Jeans
For a neutral winter wardrobe that is oh-so versatile, you can't go wrong with a pair of jeans.
If you're in need of more elevated winter looks, the dressy outfits below offer inspiration. A classic sweater dress and lifted heel combo never disappoint. Be sure to pop on tights beneath for an added layer.
How to Build a Capsule Wardrobe for Winter
Cookie cutters for Christmas baking? Cute! Cookie cutter wardrobes? Not so much. While it's great to get wardrobe inspiration from others, the best capsule is the one suited to your climate and personal style.
Here's how to create a winter capsule that you'll want to wear all season long.
1. Take Inventory of Your Winter Clothing
An essential step when creating a functional capsule wardrobe? Knowing what you're working with, of course. For a practical and organized 2023 winter wardrobe, take stock of your current winter clothing. Pull out the pieces that you love wearing in colder months. Picture your favorite wool coat, go-to knit sweaters, and flattering jeans.
Basically, pull out any clothes that are on the nice list this year. These items you can't live without will form the base of your winter capsule collection. This way, you're not building a wardrobe from scratch.
Next, organize your closet by removing unneeded items. When it comes to creating a winter capsule, a little closet cleanse will go a long way. If you've accumulated lots of clothing, take the time to sort items into keep, donate, and sell piles. Give ill-fitting garments, damaged clothing, or items that are not practical for your lifestyle the (winter) boot.
Cohesive closet, here we come. To start, choose a few neutral colors such as black, white, and gray as your base. Think of these as the backbone of your winter capsule wardrobe. Next, choose a few accent colors. Jewel tones like deep reds, purples, and greens work well in winter to add richness to your ensembles.
You may notice a color palette emerging in the go-to pieces you selected. Work with this when selecting core and accent colors for your capsule. And, check out the blog on colorful capsule wardrobes if you're in need of some inspiration.
4. Fill in the Clothing Gaps
Now that you've cleaned out your closet and gathered winter clothing must-haves, it's time to add what's missing. If you recently moved from a warm locale to a cold one, you'll likely be light on essentials like winter coats, puffer vests, and fleece-lined pants. You can shop capsule closet brands or your tried and true brands for winter essentials.
Not sure where to start? Scroll on for a checklist of capsule wardrobe essentials for winter below.
Note: Your closet needs will depend on the climate you live in and your starting point. When I moved from the west coast to the east, I realized I had plenty of long sleeve tops and turtlenecks but not many warm pants and coats. So I had to fill in those gaps. 
Layers, like a good moisturizer, are a must-have in winter. Not only will they keep you warm, but they'll also add interest to your cold-climate outfits. A rookie mistake when dressing for cold weather is to only include outerwear. The truth is, there are three types of layers that combine to keep you toasty.
Base layers wick away moisture to keep you dry. Middle layers trap in heat, insulating you from the cold. Last but not least, Outer layers shield you from the elements like wind, rain, and snow. Include all three layers in your winter closet to stay comfortable in cold weather.
Base Layers: Thermal shirts, Thermal leggings
Mid Layers: Turtlenecks, Lightweight Down Vests
Outer Layers: Wind-Proof Parkas, Waterproof Jackets
6. Stock up on Cold Weather Accessories
No winter capsule is complete without cold weather accessories. Hats, mittens, scarves, and earmuffs are both chic and functional. It's a winter win-win. Just make sure you're reaching for high-quality items in warm fabrics. Wool, down, cashmere and fleece are all lovely options. If wool makes you itch, reach for its softer counterpart- Merino wool.
If you notice your minimalist winter wardrobe is too neutral, reach for colorful accessories. A pair of deep plum gloves, a bright yellow scarf, or printed earmuffs will add a fun flare to your outfits.
Winter Capsule Wardrobe Checklist
Listen up, cold-weather cuties! If you have gaps in your winter wardrobe, this list of capsule wardrobe essentials for winter can help you identify them.
Explore the practical and fashion-forward essentials for a winter capsule wardrobe below. Then, determine which items on the list make sense for your climate and personal style.
Base Layers
Thermal Crewneck
Thermal Bottoms
Long-sleeved T-shirts
Wool Socks
Shirts
Turtleneck
Long Sleeve Shirt
High Neck Blouse
White oxford (great for layering)
Statement Top
Long Sleeve Bodysuit
Dresses
Turtleneck Dress
Knit Sweater Dress
Outerwear
Wool Coat
Down Vest
Wool Blazer
Insulated Parka
Sweaters
Knit Cardigan
Neutral Chunky Sweater
V Neck Sweater
Cozy Hoodie
Bottoms
Fleece-lined Leggings
Dark-Wash Denim
White Jeans
Tailored Trousers
Lined Leather Pants
Fleece Sweatpants
Shoes
Waterproof Boots
Over the Knee Boots
Grippy Loafers
Block Heels
Accessories
Wool Scarf
Lined Gloves
Fleece Lined Beanie
Earmuffs
How to Layer Winter Clothes
Once your winter capsule closet is ready, you'll have multiple outfit combinations to work with. These layering tips will help you avoid bulky outfits. That way, your look is more ice queen than puffy marshmallow.
1. Choose Functional Thermals
Let's begin with a trusty base layer. Fabric and fit are the two main elements to pay attention to when investing in quality thermals.
Choose materials that are lightweight, breathable, and moisture-wicking. Synthetic materials such as polypropylene, polyester, and fleece retain body heat while simultaneously wicking away moisture. This means you stay dry and warmer than a cup of steaming hot cocoa.
Next up, choose the right fit. Too-tight thermals are uncomfortable, while too-loose thermals can look frumpy (no, thanks). It's important to measure your body size and use that as a guide when thermal shopping.
TLDR: Opt for a soft, non-bunchy fabric for smooth layering, and make sure you choose thermals with a snug but not overly tight fit.
Polished looks only, please. For smooth layered outfits, tuck your thermal top into your bottoms. This will help ensure a smooth base. You can also tuck the hem of your jeans or trousers into your socks. Tucking also creates seals in your outfit, preventing cold air from entering (in case you needed more convincing).
3. Reach for Warm Fabrics
Fabric makes all the difference when it comes to staying warm. For winter clothing, quality fabrics include wool, cashmere, down, and synthetic insulation.
Why wool? Well, it naturally repels water and is odor-resistant. It's no secret that cashmere is oh-so-soft. Plus, it offers impressive insulation. For warmth on a budget, synthetic fibers bring insulation without the dreaded bulk.
4. Wear a Slightly Oversized Coat
Nothing's worse than feeling like you can't move beneath all your layers. To stay mobile and warm, add a coat that is slightly oversized to your minimalist winter capsule wardrobe. This way, you can layer underneath without feeling constricted.
So don't be afraid to add a puffer vest, blazer, or light jacket beneath your outer coat. With oversized outerwear, you can layer like a pro.
5. Invest in Quality Winter Staples
When it comes to winter essentials, quality is king. Choose winter base layers, coats, and boots made from high-quality materials, such as wool, cashmere, and cotton. These materials are designed to keep you warm and will last longer than cheaper fabrics.
Additionally, look for items that are designed with timeless cuts and colors. Trendy winter items have their time and place. But versatility lends itself well to mixing and matching, offering winter outfit looks for years to come.
Psst. Check out 6 ways to create a stunning wardrobe color palette for your winter closet.
What should be in a winter capsule wardrobe?
A winter capsule wardrobe should contain warm base layers, long-sleeve tops, chunky knits to layer, thick pants, a wool coat, and warm accessories like mittens, hats, and a scarf. For shoes,  waterproof boots are essential.  Winter capsule staples include:
Thermal Underwear
Turtleneck
Long Sleeve Bodysuit
Knit Sweater
Dark-Wash Jeans
Fleece-Lined Leggings
Sweater Dress
Wool Coat
Down Vest
Gloves
Wool Scarf
Waterproof Boots
How many pieces are in a winter capsule wardrobe?
The exact number of pieces in a winter capsule wardrobe will depend on your climate,  style preferences and lifestyle. Generally, a winter capsule wardrobe will have 20-40 pieces including accessories and shoes. A minimalist winter wardrobe may have fewer pieces.
Because winter capsules contain more layering pieces, they are typically larger than summer and spring wardrobes. The goal is to have an organized closet with versatile pieces that you can easily mix and match. Prioritize this rather than reaching a specific number of pieces in your capsule wardrobe.
How often should I update my winter capsule wardrobe?
A good rule of thumb is to update your winter capsule wardrobe at least once a year, preferably during the fall so you're ready to go when winter rolls around. Updating your capsule helps to keep the closet size manageable. Additionally, it gives you the chance to make sure all pieces suit your evolving personal style and lisestyle needs.
If getting dressed is more stressful than it is fun,  you need a simplified and chic closet. Click below for the 10 step process to your ideal capsule wardrobe.